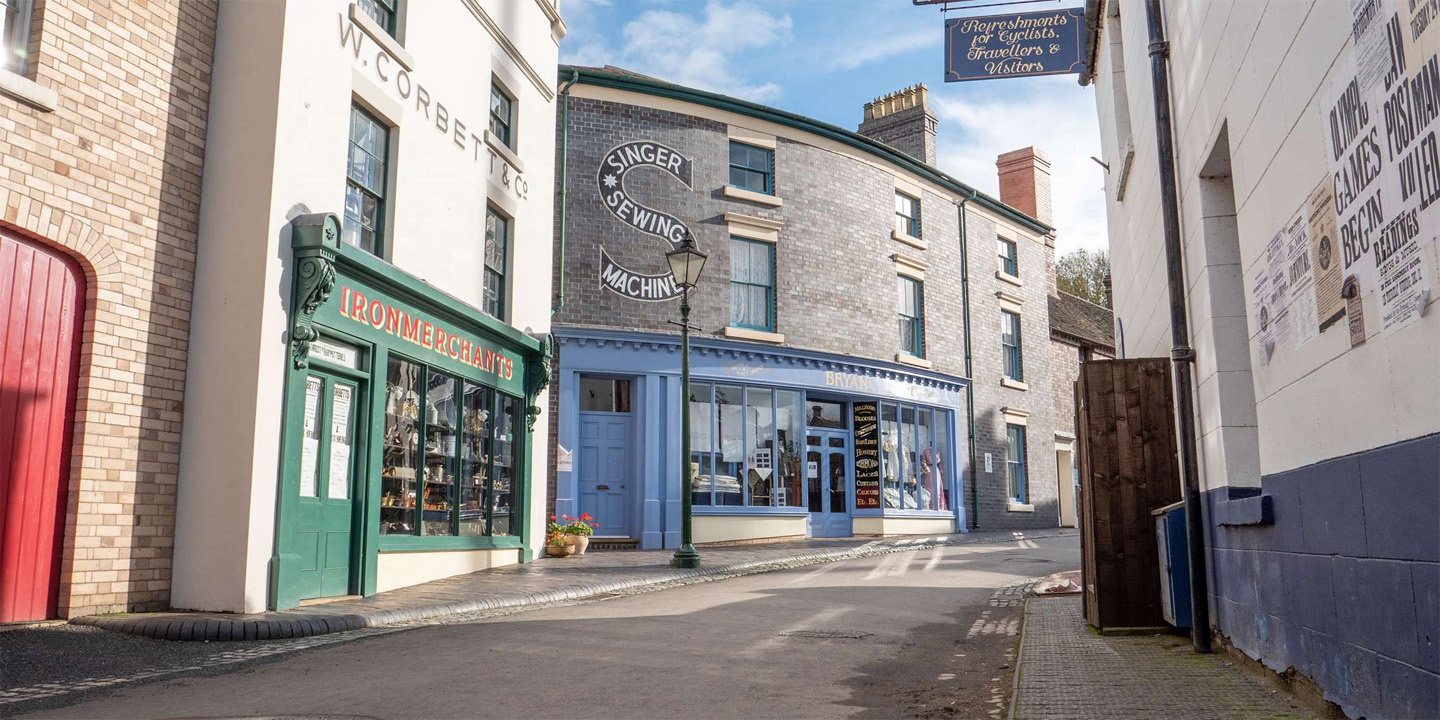 Published: Wednesday, 22 June 2022
The Iron Bridge weighing 378 tonnes and spanning 30 metres is world-renowned for representing the Industrial Revolution since its construction in 1779.
Find out why Ironbridge Gorge is of Outstanding Universal Value.
Top Attractions in Ironbridge Gorge
Published: Wednesday, 22 June 2022
The Ironbridge Gorge World Heritage Site (WHS) covers an area of 550 hectares located in Shropshire.
The Ironbridge Gorge World Heritage Site (WHS) covers an area of 550 hectares located in Shropshire. During the 18th century, Ironbridge Gorge gave birth to the Industrial Revolution with innovation of cast- iron goods manufacturing before becoming global.
The landscape provided the needed raw materials used in the industrial processes. Remains of this period are preserved within the site from mines to foundries, worker's houses to factories and warehouses to transport networks.
What are the most popular museum attractions to visit in the Ironbridge Gorge WHS, which stretches across five local areas - Coalbrookdale, Coalport, Jackfield, Ironbridge, and Madeley? Read on to find out more about the captivating museums and the various activities suitable for all ages.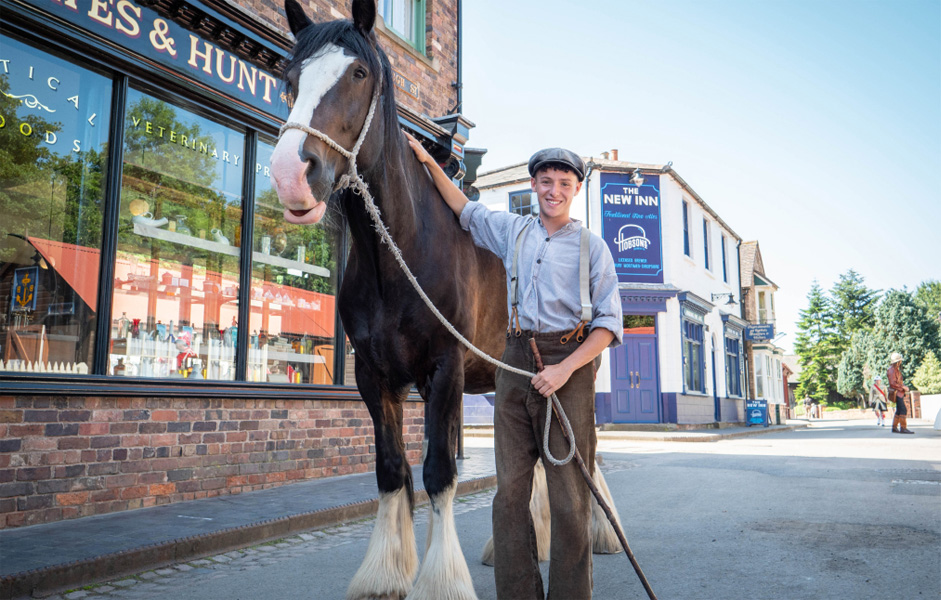 Madeley - Blists Hill Victorian Town
Experience the intangible cultural heritage of the Victorian era through the recreation of an Industrial town set in 50 acres of beautiful woodland. A family- friendly Victorian Fairground with rides and stalls is onsite as well as exhibits and interactive demonstrations from candle making, dress-making and printing, to name a few.
In addition to this, you can explore Blists Hill in a horse and cart, and visit numerous shops where you can purchase goods and learn about the tradespeople who worked there. Some of the shops include a pharmacy, cobbler's shop, an authentic fish and chip shop, butchers, stables, bakery to buy freshly baked bread and a traditional sweetshop.
Remains of the Brick and Tile Works factory and Blast Furnaces – significant WHS monuments – are part of the Blists Hill open-air museum that can be found on foot. Another original site of key importance to visit is the Hay Inclined Plane - a canal inclined plane that moved boats by lifting and lowering them over obstacles - which connected the Shropshire Canal to the Coalport Canal and linked to the River Severn.
Blists Hill Victorian Town admission includes access to the Madeley Wood Company Outdoor Adventure playground for a children and toddler play area. Featuring a mini zip-line, seesaw, replica mine-cart track, swing, a bridge, lookout tower, slides, and themed buildings and walkways.
Post code: TF7 5UD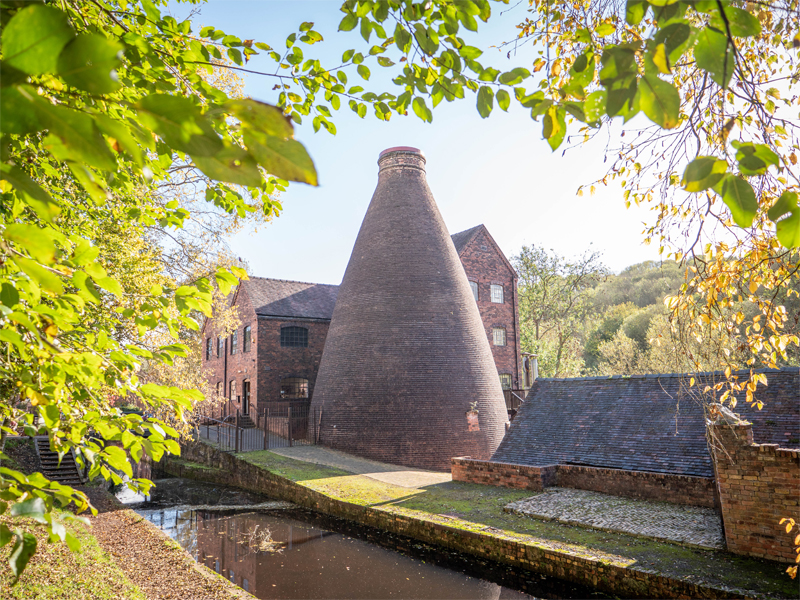 Coalport - Coalport China Museum
A museum dedicated to porcelain tableware and decorative items contributes to the World Heritage Site's outstanding universal value. The remains of the buildings and infrastructure are of particular interest showing the pioneering developments during the Industrial Revolution.
Rich in history and exhibits, discover what it was like in a ceramic factory whilst learning about the pottery industry from its beginnings in the 17th century until 1926 when it moved china production to Stoke-on-Trent.
Inside the museum you can see collections of Caughley and Coalport porcelain - tea cups, tea pots, vases, miniatures and much more - with examples of bone china made for Queen Victoria showing fine artistic brush work and intricate patterns. Whilst visiting Coalport China Museum, you can take a guided tour to learn about the production process and explore inside the restored bottle kilns. There are demonstrations for glass blowing and different pottery techniques, craft workshops for making and painting your own clay models, and a Tea Cup Trail and Family Gallery for adults and children to enjoy. There is also a gift shop for buying souvenirs and china goods.
Outside are beautiful gardens tended by volunteers growing flowers like forget-me-nots and carnations that were once used as inspiration for decorating the china pottery seen in the displays. Next to the museum is Coalport Canal with a bridge crossing over the river to other attractions such as the Jackfield Tile Museum and Maws Craft Centre.
Post code: TF8 7HT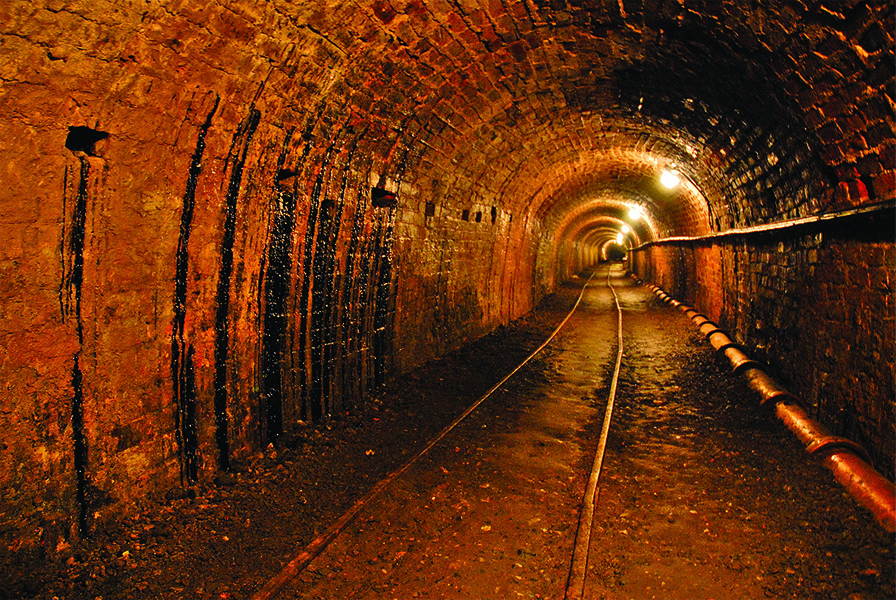 Tar Tunnel
The Tar Tunnel is more than 200 years old featuring naturally occurring bitumen seeping through the man-made tunnel walls. Originally digging for coal, local miners found bitumen, which they ended up commercially mining to be used to waterproof and seal wooden ships.
It's a brief guided tour that can be visited alongside the Coalport China Museum and a short walk from the canal where you can take your family to feed the ducks. Duck food is available to buy from the Tar Tunnel shop.
Post code: TF8 7HT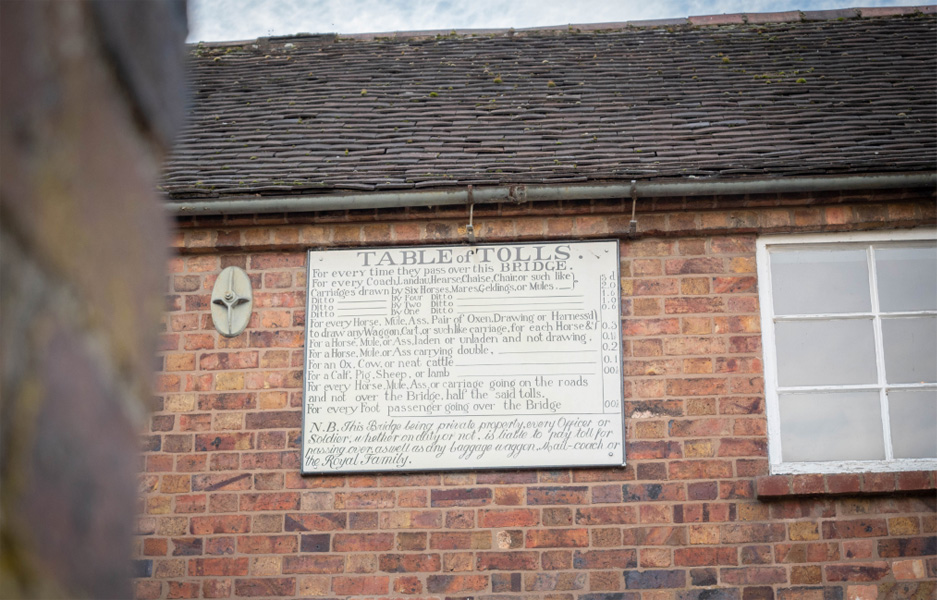 Ironbridge - The Iron Bridge and Toll House
The famous cast-iron bridge built in 1779, erected by Abraham Darby III, is now owned and looked after by English Heritage, and is part of the UK National Collection. You can walk across the bridge and discover breath-taking views of the valley and the River Severn.
The Toll House is situated next to the Iron Bridge and offers a museum and gift shop operated by Ironbridge Gorge Museum Trust. Here you will find out how much toll the Queen had to pay to cross the bridge until 1950 and the types of carriages and animals that used the bridge too.
Post code: TF8 7JP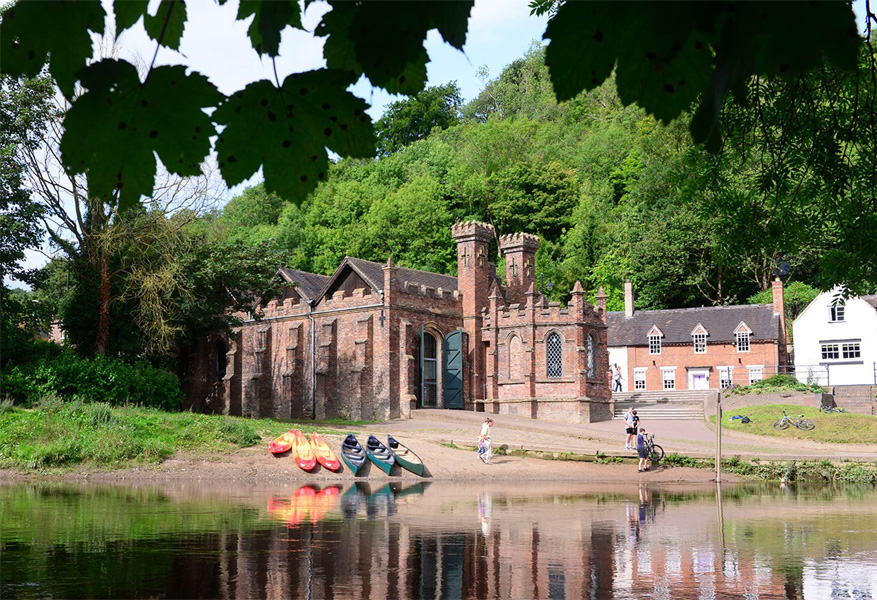 Museum of The Gorge
Watch a short and informative film about the history of Ironbridge Gorge WHS at the Museum of The Gorge providing insight into the Iron Bridge and origins of the Industrial Revolution. Look at the 12-metre model of the River Severn and Ironbridge in the valley as well as flood levels marked on the windows and walls of the museum building. There is also a lovely gift shop selling pocket money toys, books, kitchen goods and ornaments.
Post code: TF8 7NH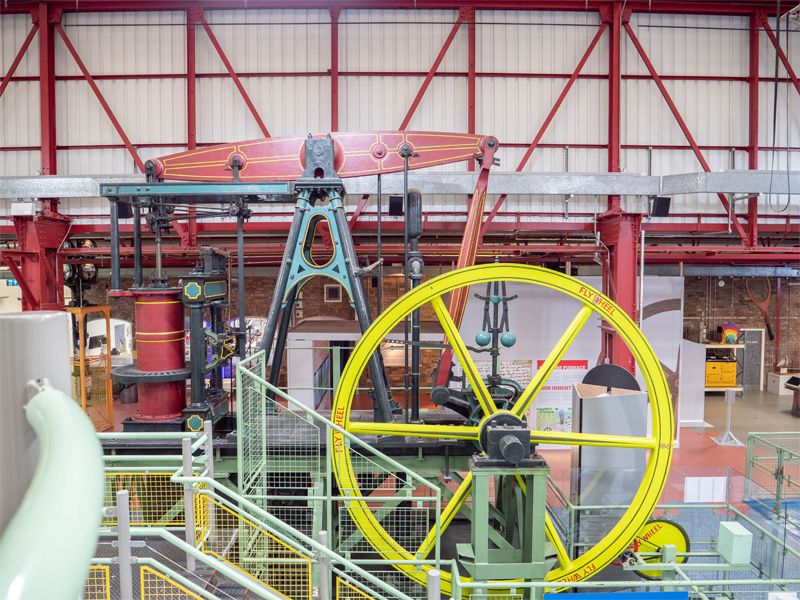 Enginuity Museum
At Enginuity you will find a wonderful child-friendly museum where you can learn about science and engineering through fun facts, games and experiments covering electricity, water, wind and much more.
There are interactive screens to take a quiz and explore what Ironbridge was like in the 1790s, a wind power station, sand pit and puzzle circuit to name a few of themany activities available. You can even try to move a 10-tonne locomotive along a track and if you have younger children, you can take them to the Bright Sparks Sensory Room to relax and play or sit down to read about scientists and engineers in the book corner.
Post code: TF8 7DQ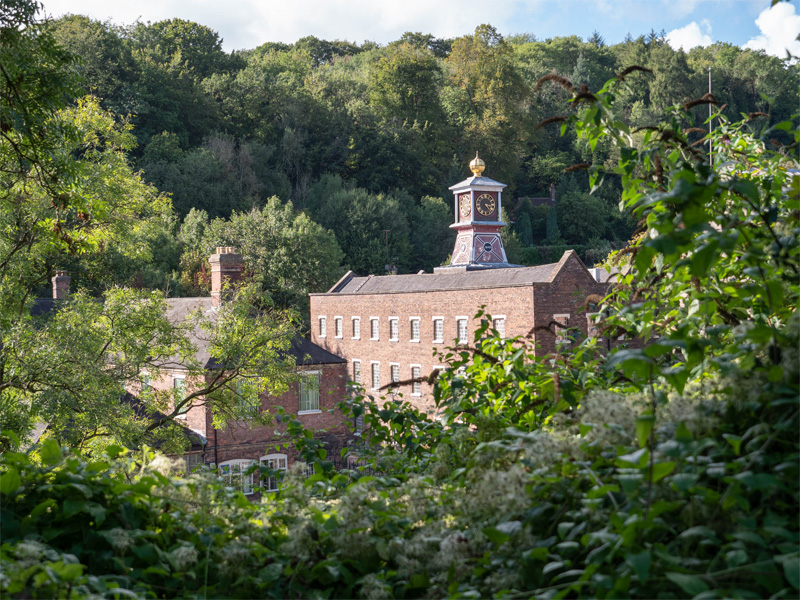 Jackfield - Jackfield Tile Museum
During the Victorian era, many homes, pubs, and shops were decorated with ceramic tiles designed by local artists manufactured at the Jackfield Tile Museum. Decorative tiles once adorned fireplaces, staircases, bathrooms, churches, tube station, worktop counters and many more places. There are lots of displays and rooms within the museum decorated to show how tiles would have been used to create these stunning spaces.
Learn more about how these fascinating tiles were made and what techniques were used to decorate them. There are collections from different period influences such as medieval, art deco and contemporary styles.
Get involved with painting your own tile in one of the workshops offered to visitors or catch a glimpse of the onsite working tile factory where they are sold within the museum. Afterwards visit the gallery and gift shop to purchase a keepsake from your visit to take home.
If you're feeling hungry, there is a cafe called The Peacock Coffee Shop which is dog-friendly serving delicious sweets, soups, and tea and coffee.
Post code: TF8 7LJ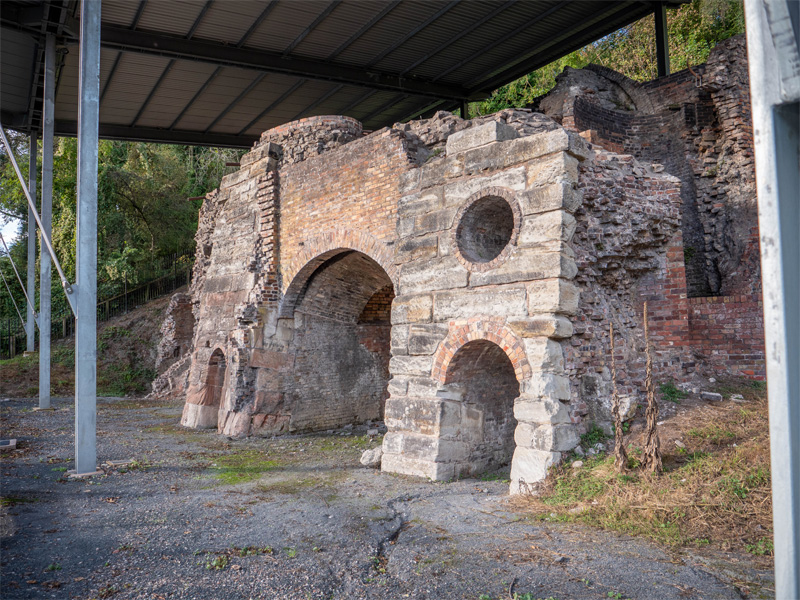 Bedlam Furnaces
A short visit to the Bedlam Furnaces is perfect whilst visiting the other museums in the Gorge. You can walk around for free and as the site is near the River Severn, it is easily accessible from local walking routes. The ruins are protected as a Scheduled Monument and the most complete compared to blast furnaces in the country dating back to the 18th century. Parts of the Iron Bridge were forged here and at peak iron production, the furnaces would produce up to 70 tonnes each week which would then be shipped using the river for transportation.
Post code: TF8 7QY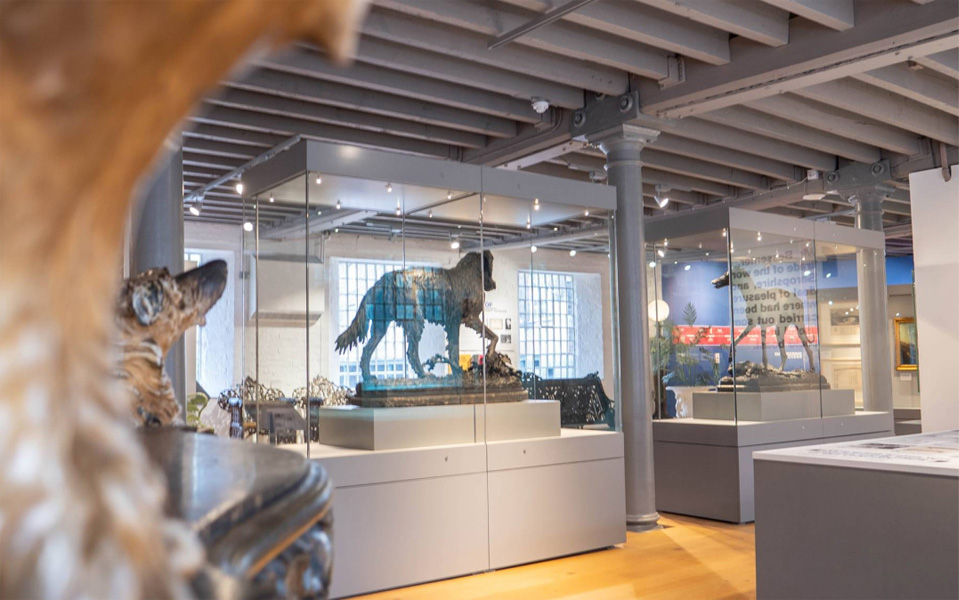 Coalbrookdale - Coalbrookdale Museum of Iron
At Coalbrookdale Museum of Iron, find out about the history of ironmaking fromdeveloping railways and steamships to how ironmakers built the Iron Bridge and made everyday items that were exported to the rest of the world. You can view a timeline of innovation, ironwork sculptures, household and garden furniture in the gallery, and Abraham Darby's Old Furnace where he developed the process of smelting iron with coke.
There is a gift shop and cafe for food and drink, or you can enjoy a picnic on the green outside.
Post code: TF8 7DQ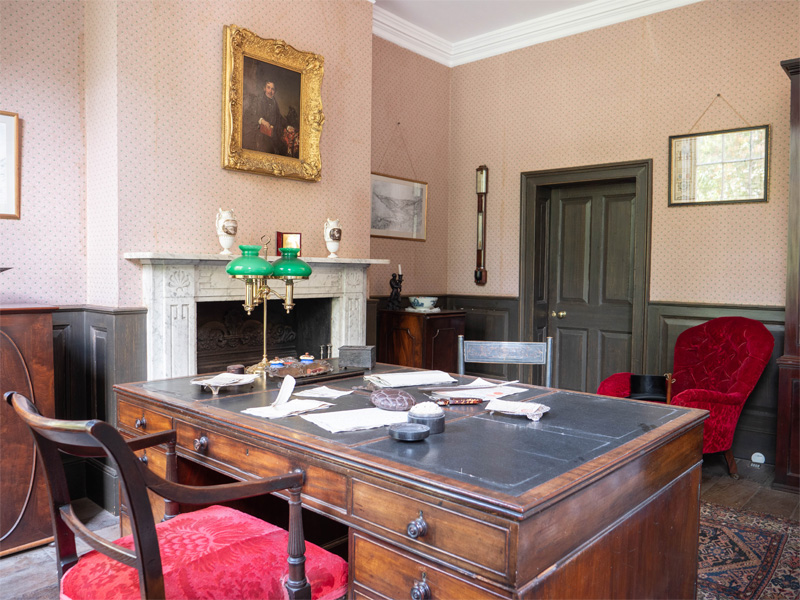 Darby Houses
Dale House and Rosehill House, or more commonly known as the Darby Houses, were home to the Darby family - the famous Quaker iron founders. Explore the restored and furnished rooms, try on some period costumes, and get close to family memorabilia including personal letters and Abraham Darby III's desk. Only a short walk from the Coalbrookdale Museum of Iron.
Post code: TF8 7EW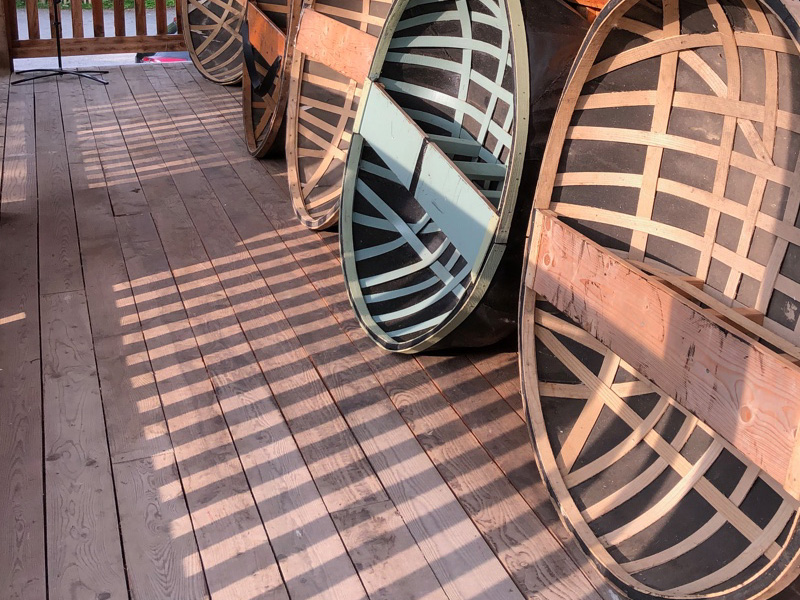 The New Coracle Shed
A charity called The Ironbridge Coracle Trust works to preserve and maintain the Old Coracle Shed as a museum for objects and artefacts, which once was used as a workshop for making coracles – traditional round boats. Although the Old Coracle Shed is not open to the public, you can still look in through the window to see tools, traps, fishing nets and more.
The New Coracle Shed based at the Green Wood Centre in Coalbrookdale, hosts a free Coracles Stories exhibition displaying photos, films, and replica objects where you can learn about coracle making and the tradespeople who worked in the Old Coracle Shed.
The Old Oracle Shed is accessible by walking through Ironbridge along the Coracle Trail. You can download an interactive map to see where you are and en route you will pass the Iron Bridge, Coracle Sculpture, and the Museum of the Gorge as well as many places to eat and drink.
Post code: TF8 7DR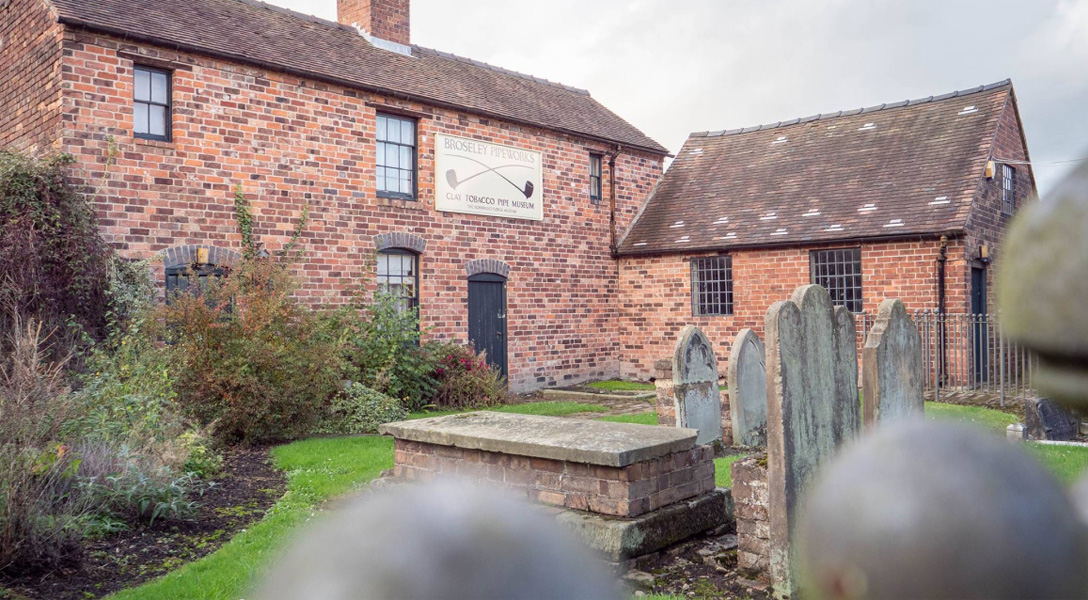 Broseley - Broseley Pipeworks
Join a guided tour of Broseley Pipeworks, the biggest clay tobacco pipe-maker that was once a working factory until production ended in 1957. See the preserved factory - opened as a museum - that was abandoned by its workers leaving their aprons hanging up and left untouched for many years. Watch a brief video showing how a clay tobacco pipe was made whilst looking at examples of such pipes manufactured onsite like the Dutch Long Straw pipes and the Churchwarden pipes.
Post code: TF12 5LX
You will find more information about the facilities, admission, and opening times of these 12 stunning attractions here where you can book your visit.

RSS version
|
What is RSS?